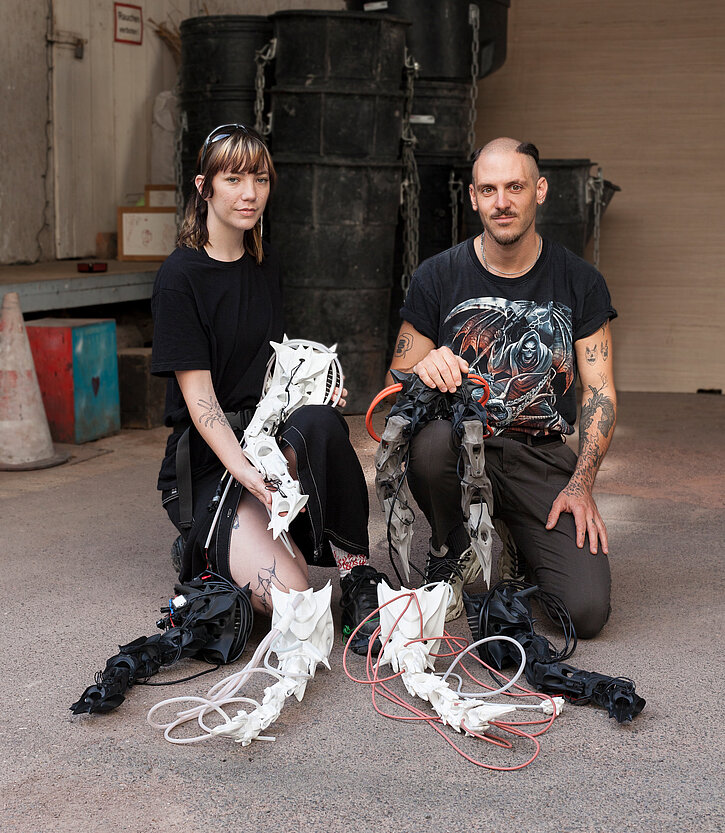 Academy
Josefina Maro
Fellow
The duo Post-Organic Bauplan, consisting of the performance artist Josefina Maro and the artist and evolutionary biologist Salvador Marino, questions the biological body in society at the Academy for Theater and Digitality and stimulates reflection. Known for their work for LOFFT Das Theater, HELLERAU European Center for the Arts, and Spinnerei Leipzig, the two artists* question the social constructs of the body: how much autonomy do we have over our own bodies? Where does one draw the line between natural and artificial, organic and inorganic, or body and space? And, what might a post-organic body be like?  
The inspiration of the project comes from biology: Fase de Cicatrización (engl. wound healing phase). Giving name to the project and connects the natural body in its healing process with robotics. In biology the body is modifiable - in society it is manifested. Post-Organic Bauplan is working on a live dance performance using motion capture for digital avatars and robotic prosthetics. On stage, the duo will interact with both the digital avatars and robotic prosthetics to represent the corporeality of different entities: the digital body, the robotic body, and the biological body. 
During our time at the Academy, we will develop a live performance where two performers, holographic avatars and robotic prostheses will interact on stage. We plan to continue to explore dance, robotics, augmented reality, and motion capture systems to create environments that play with (and question the duality of) the relationship between the concepts of natural/artificial, organic/non-organic, body/space.
https://www.postorganic-bauplan.com
Photo: ©Paul Altmann