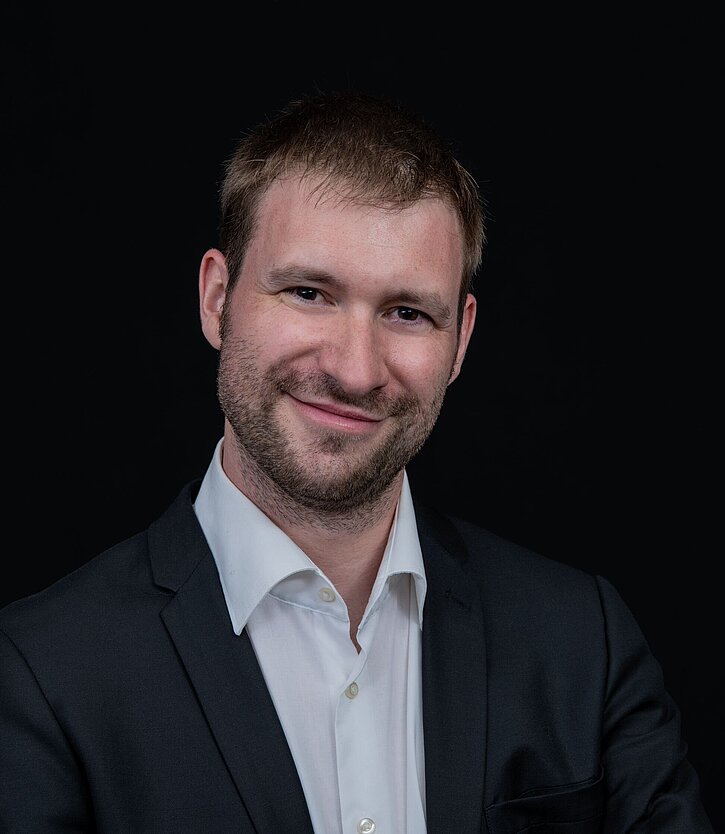 Academy
Martin Hennecke
HIDA Fellow
What is the academy?
The ACADEMY FOR THEATER AND DIGITALITY is a model project of the Theater Dortmund for digital innovation, artistic research, technical education and training. Here, fellows together with the Academy's staff investigate the possibilities of digital technologie for the performing arts: we explore innovative technologies, changing work structures, new narrative forms and discuss what it means to be an artist today at the interface between the performing arts and the latest technologies.
We'd like to research firstly how digital technologies can be applied meaningfully and sensually for the performing arts; secondly how the latter are transformed by, for example, sensors, robotics and actuators, virtual and augmented reality, artificial intelligence etc.; and thirdly how digital technologies can expand the various areas of work in front of, on and behind the stage.
The ACADEMY FOR THEATER AND DIGITALITY sees itself as a place of innovation, inspiration, discourse, exchange, a place with the courage to try something new and also to fail, for reflection, network building, impulse giving and communication – a place of art!
The AKADEMIE FÜR THEATER UND DIGITALITY is supported by the Federal state of North Rhine-Westphalia, the Federal Cultural Foundation and the Wilo-Foundation and receives funding from the European Fund for Regional Development (ERDF / EFRE).
Positions
The world as it presents itself to us has become more complex. The number of loose information transmitters reaching into our areas of perception has increased explosively. Whether technology, science or politics: the interrelationships have become more complex and contradictory. The way in which the public sphere is organized, political discourses are conducted, and how we work and live together has changed dramatically over the past twenty years. The digitalization of all areas of life has played a not to be underestimated part in all this. The tools it creates are used by people today as a matter of course. And we are now faced with the epochal task of investigating the numerous new connections between the digital and analog worlds, i. e. digitality: phenomenologically, sociologically, philosophically, technically and – as a core discipline of the Academy – artistically.
2. January 2022
New call for application open!
Deadline 31 January 2022. For details see _CALLS
2. September 2021
The new fellows of the Academy For Theatre and digitality arrived today! Katie Hawthorne, Yvonne Dicketmüller, Kiran Kumar & Kai Tuchmann, Elena Tilli & Samuel Chan, Luise Ehrenwerth sowie Johannes Payr & Peter Lorenz will work on their projects the next few months. Soon, HIDA Fellows Martin Hennecke as well as team Bnaya Halperin-Kaddari / … Continued
19. April 2021
HOW TOTORIAL #4: DANCING WITH ROBOTS
For our series "HOW TOTORIAL", Mario Simon visited a robot in Augsburg. What the state theater of Augsburg is up to with it will be explored in a workshop talk with Tina Lorenz and Markus Schubert. In the 4th episode we invite a Kuka robot arm to dance. Produktion: Mario Simon
6. April 2021
HOW TOTORIAL #3: How can digital media be used to enable new forms of documentation?
With the 3rd episode in our series "How Totorial" we offer a contribution to the discourse concerned with the question: How can digital Media and theatre be thought together? How can we perceive the circumstances of the last months as an impulse to open up new ways, accesses and set-ups? ENGLISH SUBTITLES AVAILABLE … Continued
No tenders found.
Akademie für Theater und Digitalität
Theaterkarree 1-3
44137 Dortmund / Germany
E-Mail: akademie@theater.digital
Web: theater.digital
There were no results found.
Financed by the Kulturstiftung des Bundes, the Academy will award a total of 54 scholarships for five months each in the years 2019 – 2022, usually for the months September to January and February to June.
The call for applications is aimed at artists, technicians and post-graduate fellows who have a keen interest in researching artistic-technical relations within digital narratives in theatre spaces, as well as putting those into practice. We are hoping for applicants who want to research and work with digital methods (e.g. Motion Capturing, Coding, XR, VR, AR, Robotics, Computer Sciences, Sound, Film, Interaction Design…).
The fellowships are destined to provide theatre artists and technicians with the option to begin their planned research projects, to realize their drafts and to continue or finalize their ongoing projects.
Stella Lennert is a stage and costume designer & 3D video artist.
After graduating from the Kunstakademie Düsseldorf in the stage design class of Johannes Schütz, engagements led her to the Schauspiel Köln, the Oper Köln, the Residenztheater München, the Stadttheater Ingolstadt, the Schauspiel Frankfurt, the Theater Osnabrück, and the DNT Weimar, among others.
Most recently Stella Lennert worked with the young director Anna Weber and designed together with Judith Philipp stage and costume design & video animations for DIE PRINZESSIN VON TRAPEZUNT on the big stage of the DNT WEIMAR. She also repeatedly works with director David Moser, for whose production FAKE IT TILL YOU DIE BAKCHEN she designed stage design and 3D animations and which was invited to the Körber Studio 2022 at the Thalia Theater Hamburg.
Stella Lennert also works with the Berlin-based contemporary operetta collective Tutti d*amore.
As one half of Team LEN! she designs sets and video works for TV and stages together with her sister Viviane Lennert (Teddyaward of the Berlinale, Goethe Institut, Gürzenichorchester, Saskia Rudat in the context of Freischwimmen ). In cooperation with the sound artist Jakob Lorenz they develop VR projects with a focus on scenography & sound and an anti-anthropocene setting.
Jakob Lorenz works as a composer and sound artist on installations, radio plays and theater pieces. Alone and in the collective.
From 2014 – 2018 he studied Electronic Composition at the Hochschule für Musik und Tanz Köln, class of Professor Michael Beil and Brigitta Muntendorf.
With the theater collective S. Rudat and the (i)dentity Team he was part of the FREISCHWIMMEN network between 2020 – 2022.
Since 2021 he has been working with Team LEN! on virtual immersive theater experiences in which stage design, video art and sound are chosen as main roles.
visual work:
Post-organic Bauplan works on the development of robotic prostheses to research through dance and disembody the idea of the body as natural, given and unmodifiable.
Project during our residency period:
In our time at the Akademie we will be developing a live performance where two performers, holographic avatars and robotic prostheses interact on stage. We want to continue to research dance, robotics, expanded reality and motion capture systems to go further on the creation of environments that play with the relationship between (and question the duality of) the terms natural/artificial, organic/not-organic, body/space.
Martin Hennecke is a German percussionist, composer and the Associate Principal Timpanist at Saarland State Orchestra. With his ensemble "Percussion Under Construction", he has been creating opportunities to perform the best percussion repertoire through the development of a series of full length live shows and mixing solo with ensemble percussion literature extending from the classic masterpieces to contemporary works including his own compositions. His music (mostly percussion, orchestra and electronic pieces) have been performed at venues like Philharmonie Luxemburg, the UNESCO World Heritage Site Völklinger Hütte and festivals like Euroclassic, SubsTanz, Zappanale etc. He is a sought after timpanist and percussionist and has been invited to work with about 1/5th of the 129 orchestras in Germany, e.g. the Bamberg Symphonic, Bremen Philharmonic, Frankfurt Opera, Gürzenich-Orchestra Cologne, Hannover State Orchestra, Baden State Orchestra Karlsruhe, Nuremberg State Orchestra and the radio orchestras of WDR, SWR and SR. At the 2013 German Music Competition, he was awarded with the coveted scholarship and invited to participate in the concert series "national selection of young artists". Martin Hennecke also is a member of the committee for theater and concert orchestras at the German Musician's Union and is teaching at University of Music Saar.